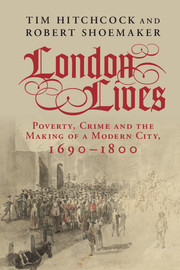 Published this week in print and as an eBook, London Lives has been co-authored by SCEMS' Bob Shoemaker (Principal Investigator on the Digital Panopticon project) and Sussex's Tim Hitchcock. Writing on Sheffield's History Matters blog, Bob explains:
"The historical argument of the book stresses the role which the lowest status Londoners, the poor and the criminal, played in shaping modern social policy. We argue that the significant innovations in social policy, both in criminal justice and poor relief, which occurred during the eighteenth century resulted from the pressures, the agency, of plebeian Londoners."
For more on this book and the process of producing an e-version, read the History Matters blog post in full.